SONAR X1
I just notice that Cakewalk already released their latest DAW, Sonar X1 (or maybe some would say it was SONAR 9).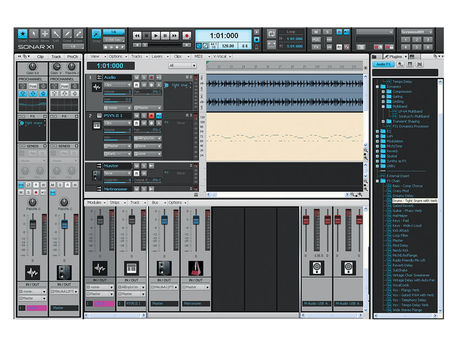 Quote:
The big new feature for Sonar X1 isn't a sexy new plug-in or editing tool, but a revised interface.

"It's clean, uncluttered and inviting - a vast improvement."



-musicradar.com
Quote:



Skylight:


Takes full advantage of today's high-resolution displays and multi-monitor setups.
Hide, dock, collapse or expand any of SONAR X1's views instantly.
Dock any view top, bottom, left or right.
Dock any or all views into the powerful MultiDock.
Float any view and maximize to multiple monitors - even the MultiDock itself.
See through stacked windows and work directly on underlying objects with X-Ray.
Access all tool functions instantly and ergonomically with the floating tool HUD.
Recall any window configuration instantly - just the way you left it.

-taken from KVR review
http://www.kvraudio.com/news/cakewalk_releases_sonar_x1
Quote:
ProChannel



The ProChannel is a SONAR X1 Producer exclusive that expands SONAR's already impressive console with big, pro-studio sound built right in to every channel. ProChannel provides one button access to bigger and punchier mixes - without ever needing to leave your mix view or launch and manage separate plug-ins. Each channel has a highly musical EQ, a choice of two compressors, two types of tube saturation, flexible drag & drop routing to order the processing, and the entire ProChannel can be pre or post FX bin.

The ProChannel's Gloss EQ is carefully designed to sound clear and musical on virtually any source material. Utilizing the latest techniques, Gloss EQ injects the smooth beauty of an analog EQ directly into SONAR's mixing console.

Pure, Vintage and Modern modes.
6 bands, 2 shelf/bells, 4 bell/notches.
2 fully parametric filters (high and low-pass).
Gloss mode for one-button shine.

The Pro Channel's integrated channel and bus compression is designed to offer the big, punchy sound of classic studio hardware with no need to manage plug-ins.

The PC76 U-Type channel compressor employs classic FET design with fast attack and analog-style warmth.
The PC4K S-Type bus compressor "glues" a mix bus together, imparting the radio-ready sound made famous by classic, large-format consoles.

** Unique in this design both compressors include a wet/dry knob for easy instant parallel compression setup.

just wanted to do some update here and there about this SONAR X1
i already upgraded my daw Sonar 8 to Sonar X1 A and using it on new fresh installation Windows 7 64bit with 4gb RAM, Intel Core2Duo, 8400gs 512MB, and Toneport UX2.
overall, i like the new interface of this DAW, the segment are more elegant, the color, theme and stuff, really bringing you the feel of using Cubase + LIVE + Reaper.
the sound i try to compare side by side with Sonar 8, i feel the surrounding more warm and live, its kinda feel like using Cubase. Much lighter on CPU usage i believe as im hardly to get drop out after loading alot of plug-in and VSTi, which compare to Sonar 8, when im on 32 track with each track got waves Q10 mono and Superior Drummer 2 plus more with CLA plugins, REQ plugins, Its really impressive which Sonar X1 dont get the drop out but Sonar 8 does.
The DAW had built-in bitbridge by sonar which can support and bridging your fav 32bit plugin to can be use in X1 64 bit (any how on installation u can chose to install X1 x86 or x64)
For user who already familiar in using Jbridge, the function are the same as how we use in 8.5.
On my personal point of view, i rather to pick up the plugin in Jbridge more rather than BitBridge which are so unstable.
Issue with Toontrack product such as EZD or SD2 is that some of the time the VSTi wont load the sampler after load it in sync rack. Even after i update my both toontrack product with their latest 64bit update, the problem still presist. In other hand, if we re-open old project, it will load, the only problem once u close the EZD windows, i wont turn back on, unless you re-start your machine.
the mixer console on the daw is pretty not in a good design to compare with previous one, which are more simple, less graphically content, and easy to be monitored. the new one is more fashionable, too much GUI, the size are not in balance measurement, hardly to tab between busses and tracks.
something that also annoying for multiple screen monitor user that this DAW not really work great on that setup, it much better to get the biggest monitor screen because the 2nd monitor will be wasted. part of it, the single monitor user already can get this issue solve as this X1 can open and hide all the graphical content with short cut keys. and they have auto measurement on arrange your mini windows like console, fader, browser, plugins, vst, spectrums and etc etc.
it worth the upgrade, but still in my heart, i love the old sonar 8 interface, maybe i already used to it. on the other hand, the X1 performance, not using much of CPU usage, support for WDM,MME,ASIO which giving me a great benefit. And also you can share the audio driver while operating your work in X1.